For the past twelve summers, beautiful things have happened on the third weekend of August in the Music School overlooking the Government Wharf in Madeira Park. This tradition continues August 18―20, when the Pender Harbour Chamber Music Festival presents a weekend of glorious concerts celebrating traditional and innovative music best heard in an intimate space. The Festival also celebrates the 150th anniversary of Canada's Confederation by featuring the work of Canadian composers in each of its five concerts.
Artistic director (and pianist) Alexander Tselyakov has invited a wonderful group of musicians this year: the Gryphon Trio (Annalee Patipatanakoon, violin; Roman Borys, cello; James Parker, piano); violinist Joan Blackman; violist (and violinist) Maria Larionof; celebrated clarinettist James Campbell; and for the final concert, these exceptional artists will be joined by violinist Jason Ho and cellist Brian Yoon for a seldom-played piano quintet composed by a very young Béla Bartók.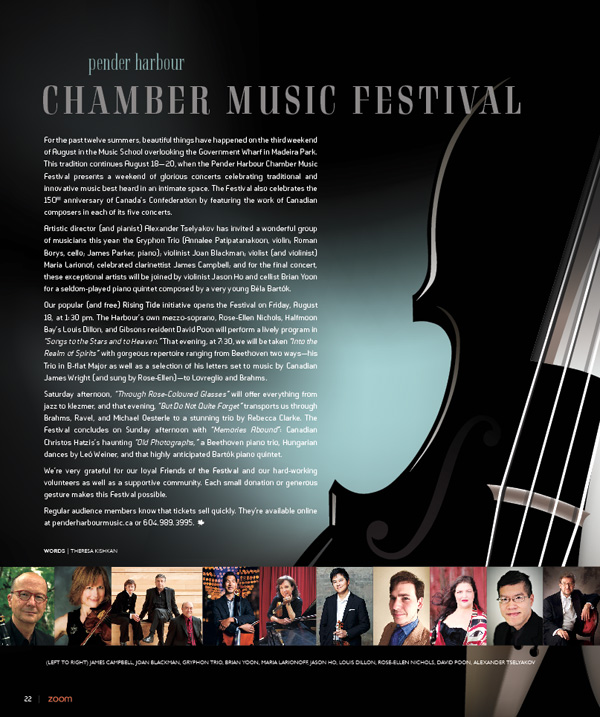 Our popular (and free) Rising Tide initiative opens the Festival on Friday, August 18, at 1:30 pm. The Harbour's own mezzo-soprano, Rose-Ellen Nichols, Halfmoon Bay's Louis Dillon, and Gibsons resident David Poon will perform a lively program in "Songs to the Stars and to Heaven." That evening, at 7:30, we will be taken "Into the Realm of Spirits" with gorgeous repertoire ranging from Beethoven two ways—his Trio in B-flat Major as well as a selection of his letters set to music by Canadian James Wright (and sung by Rose-Ellen)—to Lovreglio and Brahms.
Saturday afternoon, "Through Rose-Coloured Glasses" will offer everything from jazz to klezmer, and that evening, "But Do Not Quite Forget" transports us through Brahms, Ravel, and Michael Oesterle to a stunning trio by Rebecca Clarke. The Festival concludes on Sunday afternoon with "Memories Abound": Canadian Christos Hatzis's haunting "Old Photographs," a Beethoven piano trio, Hungarian dances by Leó Weiner, and that highly anticipated Bartók piano quintet.
We're very grateful for our loyal Friends of the Festival and our hard-working volunteers as well as a supportive community. Each small donation or generous gesture makes this Festival possible.
Regular audience members know that tickets sell quickly. They're available online at penderharbourmusic.ca or 604.989.3995.
Words | Theresa Kishkan