For well more than two decades, the Coast Recital Society (CRS) has earned a reputation for sustained excellence. At the very heart of our presentations is a commitment to bringing the finest classical musicians to the Sunshine Coast, with a balance of outstanding established artists as well as superb new-generation performers. The CRS contributes further to the musical landscape of the community through an extensive outreach program.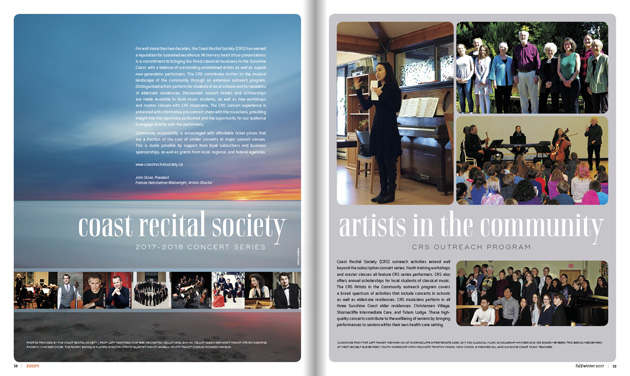 Distinguished artists perform for students in local schools and for residents of eldercare residences. Discounted concert tickets and scholarships are made available to local music students, as well as free workshops and master classes with CRS musicians. The CRS concert experience is enhanced with informative pre-concert chats with the musicians, providing insight into the repertoire performed and the opportunity for our audience to engage directly with the performers.
Community accessibility is encouraged with affordable ticket prices that are a fraction of the cost of similar concerts at major concert venues. This is made possible by support from loyal subscribers and business sponsorships, as well as grants from local, regional, and federal agencies.
ARTISTS IN THE COMMUNITY
Coast Recital Society (CRS) outreach activities extend well beyond the subscription concert series. Youth training workshops and master classes all feature CRS series performers. CRS also offers annual scholarships for local students of classical music. The CRS Artists in the Community outreach program covers a broad spectrum of activities that include concerts in schools as well as eldercare residences. CRS musicians perform in all three Sunshine Coast elder residences: Christensen Village, Shornecliffe Intermediate Care, and Totem Lodge. These high-quality concerts contribute to the wellbeing of seniors by bringing performances to seniors within their own health-care setting.