What will it be today? When you're spoiled, absolutely spoiled for choice, how do you decide on your day's activities?
Summer brings passions alive, and it doesn't matter if your passion takes you deep into the forest, out on the water, into a garden full of blooms, or into sophisticated company at a high-quality music festival, your capacity for delight will be stretched by the quality and quantity of choices here.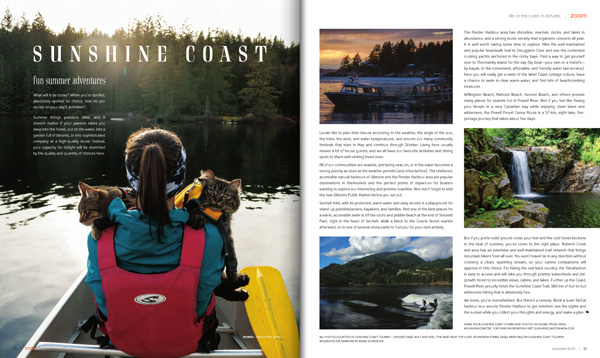 Locals like to plan their leisure according to the weather, the angle of the sun, the tides, the wind, and water temperatures, and around our many community festivals that start in May and continue through October. Living here usually means a lot of house guests, and we all have our favourite activities and dining spots to share with visiting loved ones.
All of our communities are seaside, and being near, on, or in the water becomes a strong priority as soon as the weather permits (and often before). The sheltered, accessible natural harbours of Gibsons and the Pender Harbour area are popular destinations in themselves and the perfect points of departure for boaters wanting to explore our interesting and pristine coastline. And don't forget to visit the new Gibsons Public Market before you set out.
Sechelt Inlet, with its protected, warm water and easy access is a playground for stand-up paddleboarders, kayakers, and families. And one of the best places for a warm, accessible swim is off the rocks and pebble beach at the end of Snickett Park, right in the heart of Sechelt. Walk a block to the Cowrie Street market afterward, or to one of several restaurants to fuel you for your next activity.
The Pender Harbour area has shoreline, marinas, docks, and lakes in abundance, and a strong music society that organizes concerts all year. It is well worth taking some time to explore. Hike the well-maintained and popular boardwalk trail to Smugglers Cove and see the contented cruising yachts anchored in the rocky bays. Find a way to get yourself over to Thormanby Island for the day (by boat—your own or a friend's—by kayak, or the convenient, affordable, and friendly water taxi service). Here you will really get a taste of the West Coast cottage culture, have a chance to swim in clear warm water, and find lots of beachcombing treasures.
Willingdon Beach, Mahood Beach, Second Beach, and others provide many places for seaside fun in Powell River. And if you feel like flexing your biceps in a very Canadian way while enjoying clean lakes and wilderness, the Powell Forest Canoe Route is a 57-km, eight-lake, five-portage journey that takes about five days.
But if you prefer solid ground under your feet and the cool forest beckons in the heat of summer, you've come to the right place. Roberts Creek and area has an extensive and well-maintained trail network that brings mountain bikers from all over. You won't travel far in any direction without crossing a clean, sparkling stream, so your canine companions will approve of this choice. For hiking the real back country, the Tetrahedron is easy to access and will take you through pristine watersheds and old-growth forest to incredible views, cabins, and lakes. Further up the Coast, Powell River proudly hosts the Sunshine Coast Trail, 180 km of hut-to-hut wilderness hiking that is absolutely free.
We know, you're overwhelmed. But there's a remedy. Book a quiet SloCat harbour tour around Pender Harbour to get oriented, see the sights and the sunset while you collect your thoughts and energy, and make a plan.
SHARE YOUR SUNSHINE COAST STORIES AND PHOTOS ON SOCIAL MEDIA USING #SUNSHINECOASTBC. FOR MORE INFORMATION, VISIT SUNSHINECOASTCANADA.COM.