Gigi Hoeller's finely wrought images of flowers, landscapes, wood carvings, and totems call to mind the work of Georgia O'Keeffe (the 20th-century American painter best known for her extreme and sensuous close-ups of flowers). Clearly Hoeller feels a real affinity for her subjects. The Totem Series is especially exciting. Using neutral, muted colours, Hoeller's caring depiction of the worn paint and the aged and gouged wood resonates with a soulfulness that is almost startling, as if she has found each subject's voice.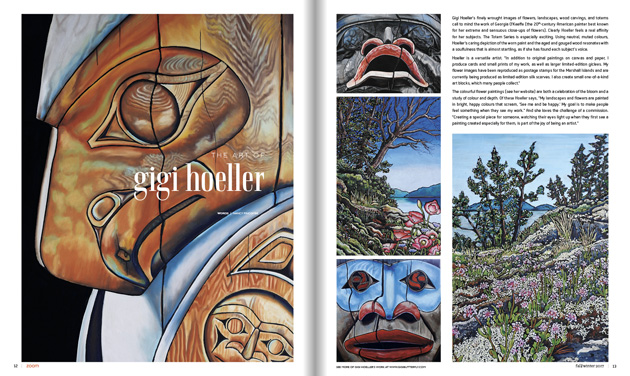 Hoeller is a versatile artist. "In addition to original paintings on canvas and paper, I produce cards and small prints of my work, as well as larger limited-edition giclees. My flower images have been reproduced as postage stamps for the Marshall Islands and are currently being produced as limited-edition silk scarves. I also create small one-of-a-kind art blocks, which many people collect."
The colourful flower paintings (see her website) are both a celebration of the bloom and a study of colour and depth. Of these Hoeller says, "My landscapes and flowers are painted in bright, happy colours that scream, 'See me and be happy.' My goal is to make people feel something when they see my work." And she loves the challenge of a commission. "Creating a special piece for someone, watching their eyes light up when they first see a painting created especially for them, is part of the joy of being an artist."
See more of Gigi Hoeller's work at www.gigibutterfly.com.
Words | Nancy Pincombe