In 1917, artist Marcel Duchamp challenged the notion of art objects as precious by submitting a urinal entitled "Fountain" for the exhibition of the Society of Independent Artists.
One hundred years later, Jan de Beer continues this exploration using contemporary materials. "I am basically taking discarded paint (garbage) and bringing it into the gallery—on stretched drop cloth." Through these large paintings—some of them as long as eight feet—de Beer seeks also to challenge the way art is "placed on a pedestal out of reach for the majority of normal people." While the resulting images may evoke a variety of moods or landscapes, the aesthetic—however appealing—is not the point.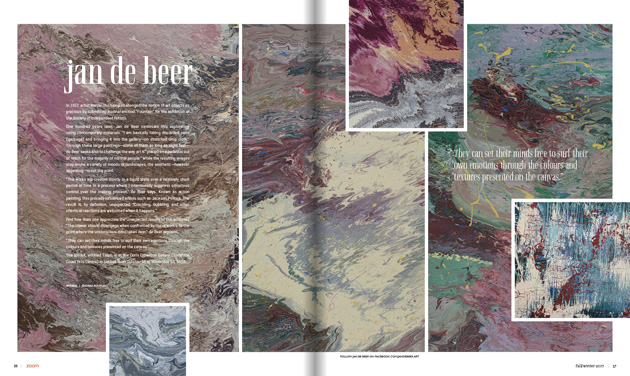 "The works are created mostly in a liquid state over a relatively short period of time in a process where I intentionally suppress conscious control over the making process," de Beer says. Known as action painting, this process influenced artists such as Jackson Pollock. The result is, by definition, unexpected. "Crackling, bubbling, and other chemical reactions are welcomed when it happens."
And how does one appreciate the unexpected results of this process? "The viewer should disengage when confronted by these works, to the point where the unconscious mind takes over," de Beer explains.
"They can set their minds free to surf their own emotions through the colours and textures presented on the canvas."
The exhibit, entitled Tides, is at the Doris Crowston Gallery (Sunshine Coast Arts Centre) in Sechelt from October 18 to November 12, 2017.
Follow Jan de Beer on Facebook.com/JandeBeerArt
Words | Andrea Routley