The Power of Paint is the perfect name for this impressive yearly exhibition by a group of friends and colleagues known as Eleven Equal Artists. Energy is the first impression and synergy is the second. These Sunshine Coast fine-art painters and mixed-media artists inspire and encourage each other in excellence, and the result is even more than the sum of the considerable parts. Now in its sixth year, the annual August show, timed to coincide with peak Sunshine Coast festival season, features successful, passionate, experienced, diverse visual artists, some of the heavy hitters of our vibrant arts community.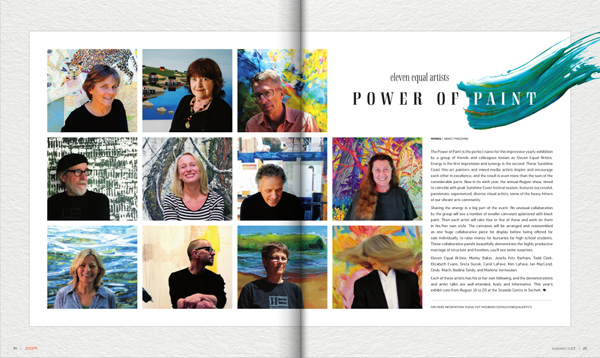 Sharing the energy is a big part of the event. An unusual collaboration by the group will see a number of smaller canvases splattered with black paint. Then each artist will take four or five of these and work on them in his/her own style. The canvases will be arranged and reassembled as one huge collaborative piece for display before being offered for sale individually, to raise money for bursaries for high school students. These collaborative panels beautifully demonstrate the highly productive marriage of structure and freedom; you'll see some surprises.
Eleven Equal Artists: Morley Baker, Josefa Fritz Barham, Todd Clark, Elizabeth Evans, Greta Guzek, Carol LaFave, Kim LaFave, Ian MacLeod, Cindy Riach, Nadina Tandy, and Marlene Vermeulen.
Each of these artists has his or her own following, and the demonstrations and artist talks are well-attended, lively and informative. This year's exhibit runs from August 18 to 20 at the Seaside Centre in Sechelt.