The sequoia is a powerful symbol for strength, health, and connectedness. The largest, tallest, and most enduring of trees, they stand powerfully rooted to the earth and to each other, with strong and straight cores. They have a natural resistance to fire and disease. In a sense, people are like the sequoias.
Sequoia Naturopathic Health Centre came into being in 2011 at its current location in Halfmoon Bay on a property where 22 of these redwood trees grow. Dr. Denise Rochon, who has been on the Sunshine Coast since 1992 and has been practising in the health-care field for more than 35 years, is passionate about our right to vibrant health and our need for connectedness. Her vision statement is clear:
"Our vision is to expand the Sequoia Sanctuary to gather people and empower them in reconnecting with their true nature, their inner healer, with each other and the natural environment."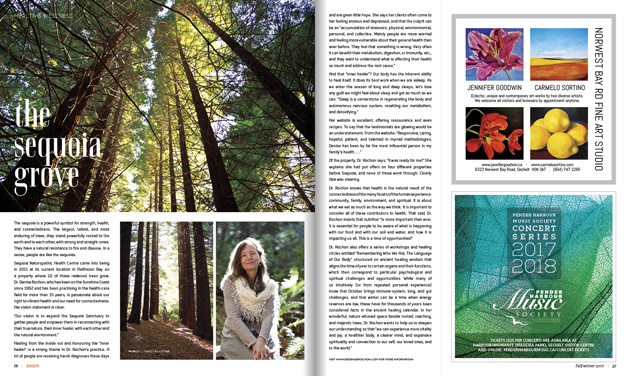 Healing from the inside out and honouring the "inner healer" is a strong theme in Dr. Rochon's practice. A lot of people are receiving harsh diagnoses these days and are given little hope. She says her clients often come to her feeling anxious and depressed, and that the culprit can be an "accumulation of stressors: physical, environmental, personal, and collective. Mainly people are more worried and feeling more vulnerable about their general health than ever before. They feel that something is wrong. Very often it can be with their metabolism, digestion, or immunity, etc., and they want to understand what is affecting their health so much and address the root cause."
And that "inner healer"? Our body has the inherent ability to heal itself. It does its best work when we are asleep. As we enter the season of long and deep sleeps, let's lose any guilt we might feel about sleep and get as much as we can. "Sleep is a cornerstone in regenerating the body and autonomous nervous system, resetting our metabolism, and detoxifying."
Her website is excellent, offering reassurance and even recipes. To say that the testimonials are glowing would be an understatement. From the website: "Responsive, caring, hopeful, patient, and talented in myriad methodologies, Denise has been by far the most influential person in my family's health . . ."
Of the property, Dr. Rochon says, "It was ready for me!" She explains she had put offers on four different properties before Sequoia, and none of those went through. Clearly fate was steering.
Dr. Rochon knows that health is the natural result of the connectedness of the many facets of the human experience: community, family, environment, and spiritual. It is about what we eat as much as the way we think. It is important to consider all of these contributors to health. That said, Dr. Rochon insists that nutrition "is more important than ever. It is essential for people to be aware of what is happening with our food and with our soil and water, and how it is impacting us all. This is a time of opportunities!"
Dr. Rochon also offers a series of workshops and healing circles entitled "Remembering Who We Are, The Language of Our Body" structured on ancient healing wisdom that aligns the time of year to certain organs and their functions, which then correspond to particular psychological and spiritual challenges and opportunities. While many of us intuitively (or from repeated personal experience) know that October brings immune-system, lung, and gut challenges, and that winter can be a time when energy reserves are low, these have for thousands of years been considered facts in the ancient healing calendar. In her wonderful, nature-attuned space beside rooted, reaching, and majestic trees, Dr. Rochon wants to help us to deepen our understanding so that "we can experience more vitality and joy, a healthier body, a clearer mind, and expansive spirituality and connection to our self, our loved ones, and to the world."
Visit www.drdeniserochon.com for more information.
Words | Nancy Pincombe